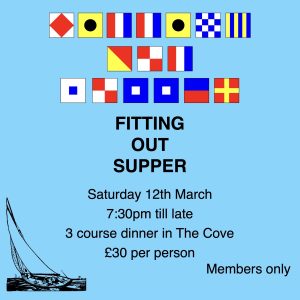 The first of the 2022 Club dinners for members is the Fitting Out Supper on Saturday 12th March. The cost per person is £30 and the wonderful 3 course meal.
We know that many members arrange and book their own group tables with the office and that format works very well.
We are however aware that as a Club with so many new members, and with the impact of COVID, not everyone may had the opportunity to attend a Club dinner yet. With this in mind we are arranging a few tables for new members who may still be finding their bearings around the Club. Council members will host the tables and we look forward to our new members meeting each other and enjoying the social side of everything that the Club has to offer. If you would like to join us at the Fitting Out Supper and would like a seat at one of the hosted tables please email Stacey and request a hosted table when booking your tickets.
New members are not just those who have joined this year. COVID has restricted social events for many new members over the last few years. If you have joined prior to COVID but not had the opportunity to meet other newbies, this invitation is also extended to you.
Tickets are sold on a first come, first served basis and emails will be answered in the date order they are received.
If you are not able to make the Fitting Out Supper then there are two further opportunities -
Saturday 16th April   Easter Supper
Saturday 4th June   Jubilee Supper