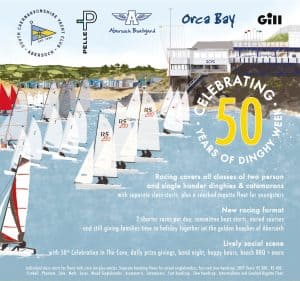 After a two-year gap as a result of Covid -19, South Caernarvonshire Yacht Club (SCYC) is looking forward to a momentous return for Abersoch Dinghy Week this July as we celebrate Dinghy Week's 50th anniversary!
Registration is Saturday 23rd July with racing from Sunday 24th till Friday 29th. This year we are introducing a new modern racing format with committee boat starts, and two shorter races per day taking advantage of the fabulous waters of Cardigan Bay. The new format will still allow competitors to enjoy time on the beach or elsewhere on the Llŷn Peninsula with their families/friends. We are also planning to run the Rookies (coached regatta fleet for U16s new to racing) again after its success in 2019.
We are working on a full programme of social events, with a celebratory meal in the Cove on the Thursday evening, daily prize givings, and a beach BBQ (fingers crossed for the weather!) and more…. Competitors can look forward to the warmest hospitality at the Club as we welcome you all back.
To add some excitement to the event and to seek out some history SCYC is running a competition to see who can come to the week and bring with them the oldest piece (dated of course) of dinghy week apparel.  We will of course be producing 50th anniversary t-shirts for competitors. There will be plenty of prizes for the winners and a lot of fun on the way. The week should have a real buzz about it as we celebrate the evolution of this special event.
Confirmed sponsors so far for 2022 are Orca Bay, Abersoch Boatyard, Pelle P, Gill and English Braids.
ADW COACHED REGATTA FLEET -  ideal for novice sailors and new racers. Junior event (under 16 on 31/12/21, target age under 13)
The Coached Regatta Fleet aims to offer an introduction to open-water racing in a relaxed learning environment. This fleet is particularly aimed at younger juniors who have done some, but not much, sailing, whether on inland waters or the sea. The ethos of the Coached Regatta Fleet is to welcome and help less experienced sailors.  Experienced sailors and parents are asked to always assist less experienced sailors at this event with tasks such as rigging, launching, and general help and advice about kit, etc.
Racing & Training will be provided for:
Inexperienced and less experienced sailors
Those who are just learning to sail
Those taking part in their first event
Racing/race training will be provided for a mixed class, off the beach round a short course or courses to be laid inshore of the moorings.
If you have any questions or if we can help you with anything, please contact the office on 01758 712338 or drop us an email at abersochdinghyweek@gmail.com
SIs will be available in due course.